FEATURED VETERAN – Sgt. MYRON "BEAR" HONICAN, US Army
========================================================
"Introduction"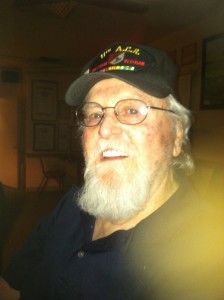 There are a lot of characters that hang out at VFW Post 6562 in Milford (Day Heights) Ohio. Sometimes pleasant, sometimes a little grouchy; many quite interesting to talk with. But there is one guy that, if you were to meet him, you would come away with the impression that he is indeed one-of-a-kind. He is Sergeant Myron Honican, United States Army, Vietnam. At the Milford Post, everyone just calls him by his life-long nickname, "Bear".
One might wonder if he earned that nickname because he has a grisly, white beard surrounding his now-elderly face. Or perhaps because when he fought in southeast asia, and when he has recently battled health problems like cancer and diabetes he stayed in the fight with bear-like tenacity. Or maybe someone had the audacity to suggest to him that the USA did not win in Vietnam. If they did exhibit this lack of understanding of the facts, the next thing they heard was a 250-pound bear of a man letting out that roar that comes just before biting the victim's head off.
The name certainly befits the man. He has dedicated most of his life to serving these United States in one way or another; always with the greatest possible strength:
As a soldier, he fought with distinction in Vietnam in some horrific battles.
As an honor guard motorcycle rider with his fellow veterans, and later a VFW Memorial Team member, he assisted in the proper military burial for many, many of his comrades who have since gone on to their final duty station.

As an officer at the Veterans of Foreign Wars Milford, Ohio post he has performed yeoman service in many different capacities, including Post Commander, Jr. and Sr. Vice Commander, Quartermaster, Trustee, and Adjutant. His accomplishments in these roles are many, and they even include getting an M60 tank for our front yard!
"Vietnam Service"
After serving a tour of duty in Germany during the cold war, Bear shipped out to the war in Vietnam. He was assigned to the A Troop of the 4th Squadron, 12th U.S. Cavalry Regiment at first, and later he was transferred to the 11th Armored Cavalry Regiment, the famous "Blackhorse" Regiment. The 11th ACR was positioned near the Mekong delta region, near a location called Firebase Rita in the Lai Khe area, just a bit southeast of the huge Michelin Rubber Plantation when Bear joined its ranks. By then he had been promoted a couple of times and had worked his way up to being a tank commander.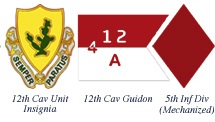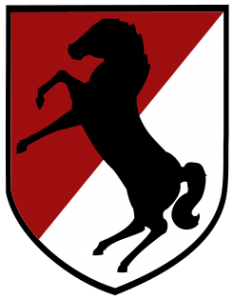 <<<  A 4/12 Regiment insignia
11th Armored Cavalry Regiment Patch >>>>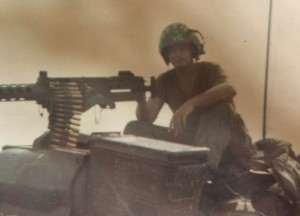 Snapshot of Bear enjoying a cigarette while on watch with the 50 Caliber
"The Battle of the Michelin Rubber Plantation"
In the long history of the Vietnam War, there were several battles that took place at the site of the 31,000 acre Michelin Rubber Plantation, and all bear the name Michelin Plantation in some form or another. The most horrific of these battles was the one Bear fought in during March of 1969.
In early 1969, the North Vietnamese Army was planning to strike deep into the delta region and onto the South Vietnamese capital of Saigon. The interdiction of these forces which were coming over the border from "neutral" Cambodia, was assigned to the 11th ACR and selected units from the 1st Infantry Division and the 1st Regiment of the 4th" Division of Air Cavalry (helicopter-borne troops and gunships). The North Vietnamese unit was the 7th Division, supported by various local VC (South Vietnamese Communist Insurgent) units. The 11th ACR would take the lead for the U.S. in this blocking attack, codenamed "Operation Atlas Wedge". The opposing forces happened to come together northwest of Lai Khe, at the Michelin Rubber Plantation.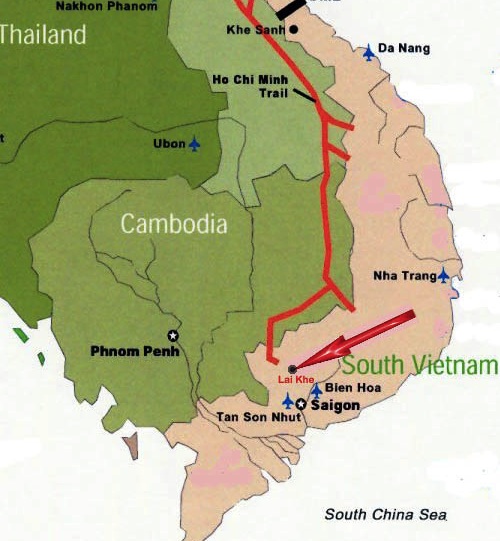 Prelude to Battle . . .
Orders given to 11th ACR in preparation to entering the Michelin are shown in the following excerpts from the U.S. Army "After Action Report – Operation Atlas Wedge", dated 15 AUG 1969. NOTE: This report was declassified 31 DEC 1973.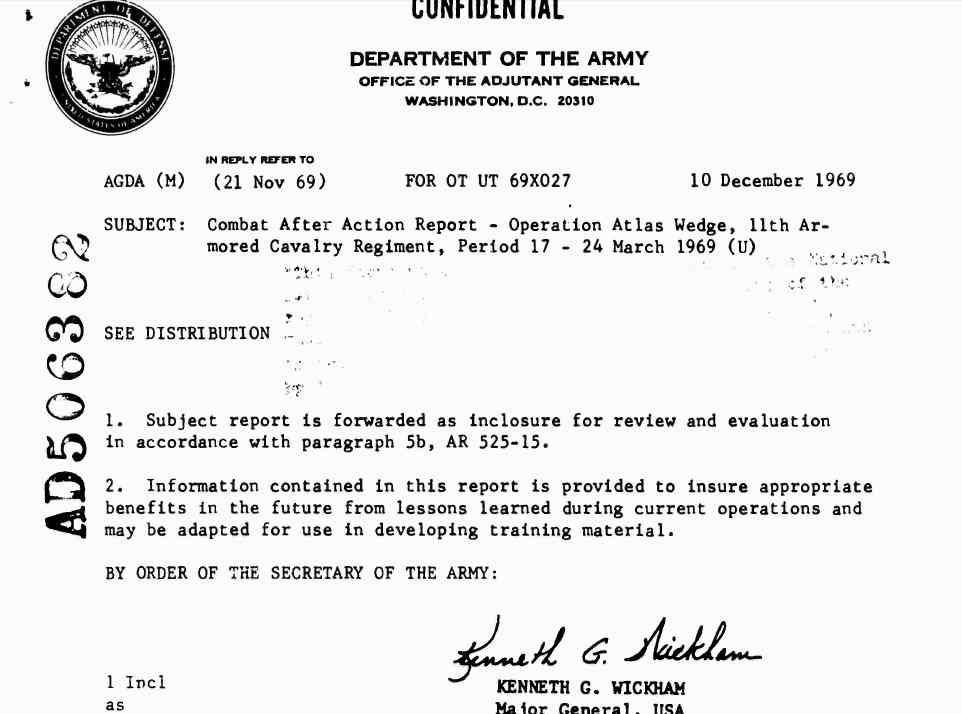 ========================================================
During the combat, the tank squadrons of the 11th ACR reconnaissance in force (RIF) operation engaged the enemy many times each day. Further enemy engagements were also made by U.S. 1st Infantry personnel, and supporting Air (helicopter-borne) troops. It is not possible for me to list here all of the engagements of the various tank, infantry and air units involved, but the overall result was in-excess of 350 NVA soldiers killed, many more than that wounded or dragged from the battlefield by their units. Ultimately the Americans turned the tide of battle, sending the remaining NVA units retreating into Cambodia. The after-action report is very exciting reading for anyone wishing to get an in-depth look at the war in Vietnam. I suggest that the reader Google "Operation Atlas Wedge After Action Report" to see the complete story, which is much too long to reproduce here. The important thing to get out of the Army reports is that the interdiction force was going up against 5000 NVA troops with additional VC units.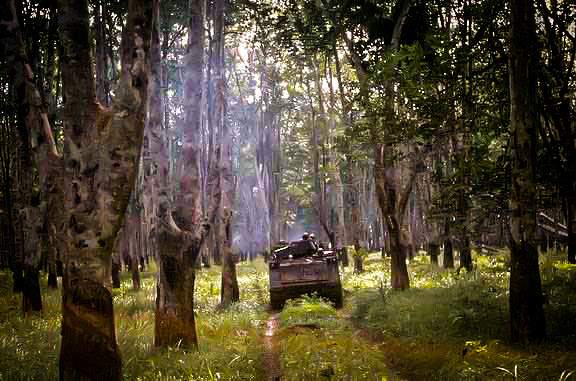 During the fighting, 11th ACR was at the tip of the American spear, and Bear's tank was one of those at the very tip of the attack. Such was the intensity of the fighting, that Bear's squadron fired all of its available main gun ammunition. Then all of the 50 caliber machine gun ammo was also expended. A couple of the U.S. tanks had been destroyed by Rocket-Propelled Grenades when Bear spotted an enemy soldier approaching with another RPG. He shot the enemy soldier with his 45 caliber pistol.
Bear holding a captured RPG (rocket propelled grenade)
taken from an enemy soldier he shot with his .45 cal pistol.
Photo taken by Bear's tank crew.
Postscript to Battle . . .
In late March 1969, the 11th ACR was relieved by the first Squadron of the 4th Armored Cavalry Regiment, or "one-four" as its called, coming up from firebase Rita. In my opinion, Bear and all of his buddies in the 11th ACR are heroes. They turned back the enemy and saved the city of Saigon from destruction in a battle that is not even well known except by the men who fought there.
Jim Pitts, one of the one/four guys, in a book he published after the war, describes meeting the surviving members of the 11th ACR as they left the battle. It is left for the reader to estimate what sort of horror the 11th had endured just before this meeting.
Excerpt from:
"BATTLE OF MICHELIN PLANTATION"
by: Jim Pitts; 4th ACR, B16, B5 Jan – Dec 1969                              4th ACR Patch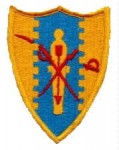 "On the morning of 30 March 1969, we were going into the Michelin all the way. We had a stream to our left flank and another to our right flank. These two streams converged gradually to the south of us and merged into one larger stream. We were in the open mouth of a watery "Y", and we were to sweep southward until we reached the juncture of the two streams. . . . "Bravo Troop deployed on line, with left to right order being Mike, November, Lima. As Lima, I believe we were the right flank. I had no knowledge of any friendlies to my right."
"We began to move down the neat rows of rubber trees. B6 told us platoon leaders not to fire without permission; there were other friendlies in the AO. I rogered."
"We halted. We sat for some time. I then saw ACAVs and Sheridans approaching in a column toward me from my right. Seeing Sheridans, I knew it was the 11th Armored Cavalry Regiment, as no one else in Nam had Sheridans. Bumper markings soon confirmed that. As they neared, we noticed how somber they were. No waving, no smiles. Just the "thousand yard stare." Then I saw a litter lying on the open cargo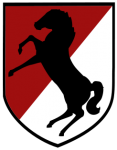 hatch of an ACAV. A pair of jungle boots was sticking out from under a lumpy poncho ……. a body that they had so far been unable to evacuate. They passed on through my platoon silently except for the diesels."
"Service to America's Veterans"
After completing his tour of duty in Vietnam and the remainder of his military service, Bear decided to help his Nam comrades, at first by participating in motorcycle honor guard rides. Later he Joined the VFW and became a member of the VFW Milford. Ohio Post 6562, and eventually the VFW Southwest Ohio Memorial Team. While doing this "double duty" he got promoted through the ranks of the Milford Post leadership, holding various positions, including: Trustee, Adjutant, Quartermaster, Jr. and Sr. Vice Commander, and eventually Milford Post Commander. During this time he got the idea of trying to get a tank for the Post property. By contacting a General at Fort Knox, who knew him personally from their time in Vietnam, he was successful. Today, the M60A3 Vietnam-era tank sits as a proud monument in front of Post 6562.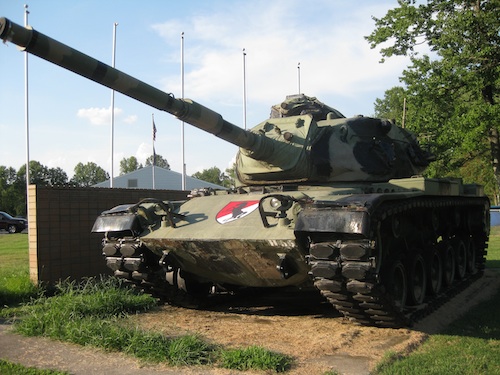 About the tank . . .
The tank parked in front of our post is an M60A3 Patton main battle tank. The M60 series was derived from the earlier same-name M48A5 Patton tank. Besides having the same name, the two tanks are visually almost identical. What makes this an M60A3 is the 105 mm high-velocity rifle main weapon, which was an upgrade from the M48 90 mm tank gun. The M60 series was also eventually fitted with a ballistic fire control computer for increased accuracy when firing-while-moving. Both the M48 and M60 series tanks were used in Vietnam.
All of us at the Milford post are grateful to Bear for the tank, for his heroic military service, for his VFW service, and most of all for his entire life of service to the flag of the United States of America.
Today . . .
After many years of post service, and people meeting Bear, his wife and family, he is now recognized as one of our most revered post patriarchs by everyone.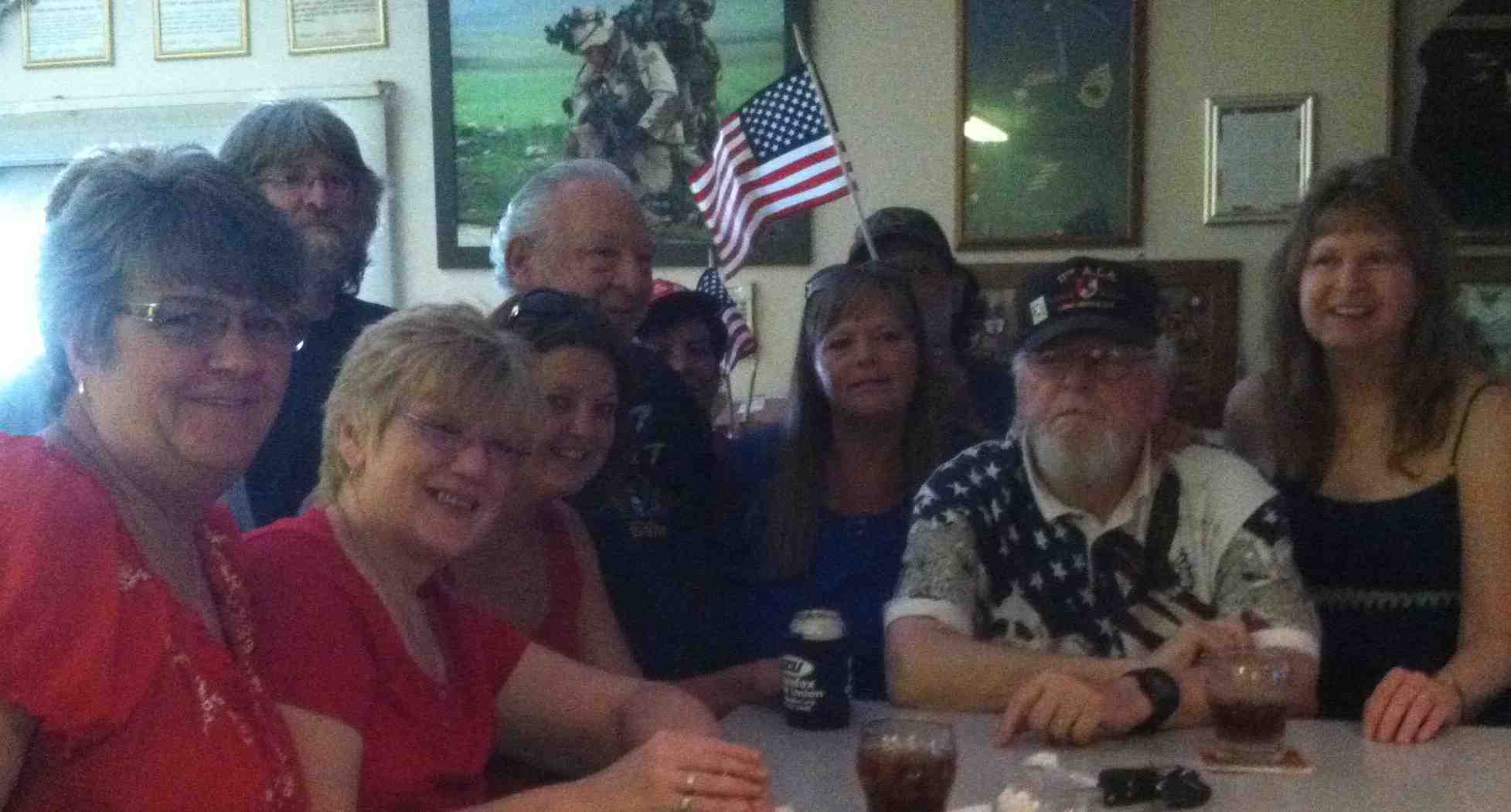 VFW friends wishing Bear a happy birthday
The girl in the middle red dress is Bear's wife Laurie
"Postscript"
As mentioned in the Intro, there are many stories at the Milford post. I will attempt to write at least some of them, to the extent I am able. But it's no accident that Bear is among the first. It has been a pleasure and an honor to make his acquaintance. He is what people think of when they think of a veteran.
In addition to the fact that he's a war hero, he is a true friend to his comrades in arms because he and his family support many veteran causes by attending rallies, walking to earn money for DAV and many other similar causes. I am proud to call him a friend, and to have been given the opportunity to tell some small part of his life's story.
"Post – Postscript"
Sergeant Myron "Bear" Honican, since the writing of his story, has answered God's final bugle call and has left this earth to receive his reward at his final duty station.
Your prayers for his soul to rest in peace in the care of Our Lord are very much appreciated!
– Larry Reuss, VFW Post 6562 Service Officer
"Dedication"
This story is dedicated to the 58,000 Americans who died in the Vietnam war.